Celui-là, il est précommandé et déjà en route... ;)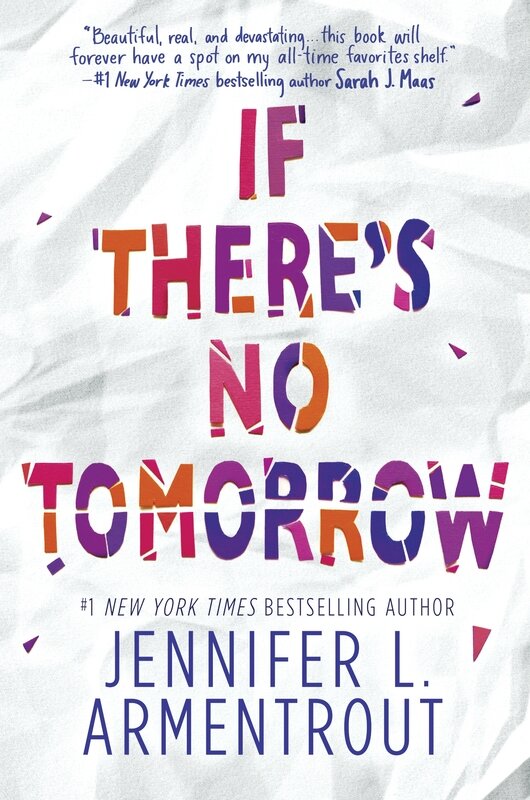 SYNOPSIS:
Lena Wise is always looking forward to tomorrow, especially at the start of her senior year. She's ready to pack in as much friend time as possible, to finish college applications and to maybe let her childhood best friend Sebastian know how she really feels about him. For Lena, the upcoming year is going to be epic—one of opportunities and chances.
Until one choice, one moment, destroys everything.
Now Lena isn't looking forward to tomorrow. Not when friend time may never be the same. Not when college applications feel all but impossible. Not when Sebastian might never forgive her for what happened.
For what she let happen.
With the guilt growing each day, Lena knows that her only hope is to move on. But how can she move on when her and her friends' entire existences have been redefined? How can she move on when tomorrow isn't even guaranteed?
Ce roman sort aujourd'hui en VO
Amazon * Audible * B&N * iBooks * BookDepository
AUTHOR BLURBS & TRADE REVIEWS
"Thought provoking and powerful."
--# 1 New York Times bestselling authors Erin Watt
"Beautiful, real, and devastating, If There's No Tomorrow grabbed me by the heart from the first lines and didn't let go until the very end. Teeming with toe-curling romance, fully-realized friendships, and nuanced portrayals of grief and healing, this book will forever have a spot on my all-time favorites shelf. Absolutely brilliant and unforgettable."
--# 1 New York Times bestselling author Sarah J. Maas
"Moving and necessary, essential and powerful, IF THERE'S NO TOMORROW belongs in everyone's hands. You won't be able to put it down."
--Brigid Kemmerer, author of LETTERS TO THE LOST and ELEMENTAL SERIES
"This nuanced portrayal of guilt and redemption is a great pick for fans of Cynthia Hand's The Last Time We Say Goodbye (2015)."
--Booklist
"With a powerful message about the destructive effects of drunk driving and the far-reaching consequences of small decisions, Armentrout (The Problem with Forever) presents an effective story of raw grief and gradual acceptance."
--Publishers Weekly
"The romantic tension is portrayed especially well. The narrative's true strength is its portrayal of Lena's mind and her process of working through guilt"
--School Library Journal
Et pour finir, un giveaway ouvert à l'international ;)
Pour participer, c'est par ICI.

Bonne chance !!