Wendy Higgins, New York Times and USA Today bestseller, nous entraîne au coeur d'une Amérique apocalyptique dans sa trilogie Unknown. Undone, le dernier tome, est désormais disponible. N'attendez plus pour vous procurer ces romans !!
Unknown Trilogy #1 : Unrest
Amber Tate believes the worst thing she'll suffer in life is dealing with the unrequited love she feels for her brother's best friend, Rylen Fite. She also believes war is something unfortunate that happens places far, far away from her rural Nevada town. She's wrong on both counts.

When an unknown organization meticulously bombs major cities in the United States and across the globe, a trickle-down effect spreads to remaining towns at an alarming speed—everything from food and water sources to technology and communications are compromised. Without leadership, the nation is split between paralysis and panic, but Amber isn't one to hide or watch helplessly. She's determined to put her nursing skills to use, despite the danger, even if it means working alongside the man she can never have.

In this first installment of NY Times bestselling author, Wendy Higgins's debut New Adult series, a frighteningly realistic apocalyptic America is brought to life, entwined with searing romantic tension that will leave you eager for more.
Amazon ✦ Barnes & Noble ✦ iBooks ✦ Kobo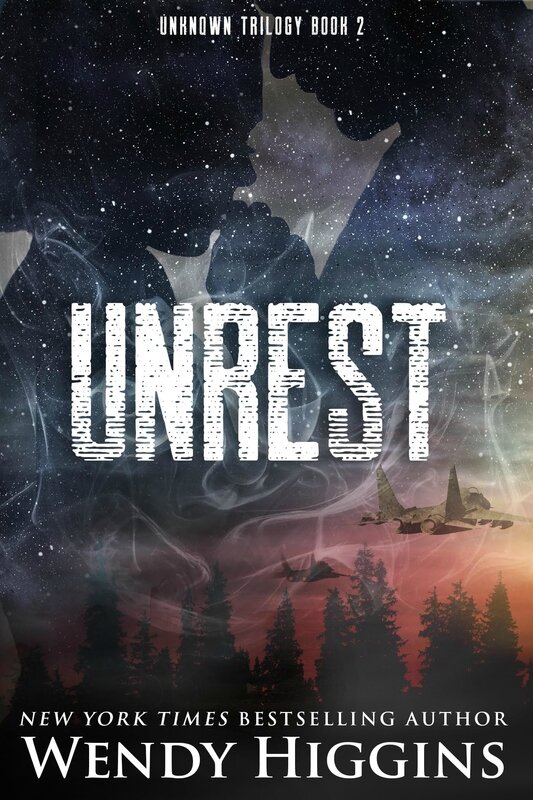 Unknown Trilogy #2 : Unrest
Being on the run in the desert means food and sanctuary are hard to come by, but Amber Tate and her crew are not about to give up. Not after having so many of the things they love brutally ripped from them by an unknown enemy who sent their world into the apocalypse.

Survival takes precedence, but once safe shelter is found, their guards fall and the emotions they've been holding in are finally released. Anger, insecurities...lust. In their tight quarters, Amber, Rylen, Tater, and Remy can't escape it. The past must be faced, and passions run even stronger in the darkest of times.

In the midst of unrest, their worlds are rocked again when they discover the truth about the war that's ruined their lives. They thought finding out the enemy's identity would give them the edge; instead it's revealed terrifying dangers they never thought possible.
Amazon ✦ Barnes & Noble ✦ iBooks ✦ Kobo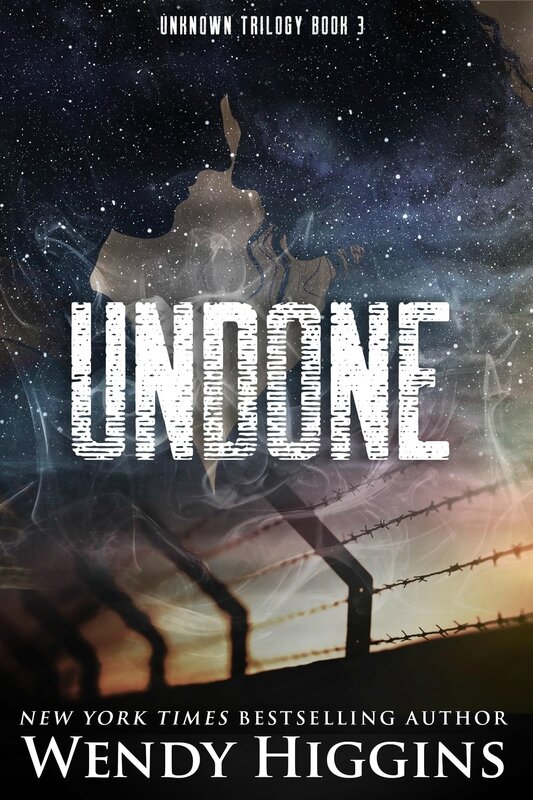 About UNDONE (Unknown Trilogy #3):
Amber Tate never dreamed their heart-wrenching escape from the enemy's attack would lead them to the most beautiful place she's ever seen. Like everywhere else in the world, Elmendorf military base in Alaska has been taken over, but it's time to take it back—all of it—one base, one city at a time. After losing so much, Amber clings to the one precious person she has left, and vows to sacrifice everything to help save the Earth.
Remy Haines is a lover, not a fighter, so when she finds herself in enemy territory, expected to feign allegiance while gathering intel for the rebel cause, she's never been more out of her element. Tensions only increase when her feelings for Jacob "Tater" Tate won't go away, and the enemy's leader takes an interest in her. She's torn between what her heart wants, and what she knows she should do. As for what her body needs…well, it's always had a mind of its own.
Amazon ✦ Kobo ✦ Barnes & Noble ✦ iBooks ✦ Amazon FR ✦ Fnac
Excerpt from UNDONE: Remy and the Senator
As he neared, I gathered every ounce of bravery to ask, "Senator?"
"Yes, Ms. Haines?" He stopped three feet from me.
"I don't want to make you uncomfortable or be inappropriate, but I'd like to know." I swallowed and he waited patiently. "Why don't the Baelese allow casual touching?"
I could hear my heartbeat in my eardrums.
The Senator put his hands in his pockets, and I tore my eyes away from his forearms.
"That's a perfectly understandable question. It's a major difference between our cultures. My people have much thicker skin than humans, over ten times thicker. And in our skin we have more nerves and nerve endings. A simple touch is not so simple. The smallest brush of a hand across our skin can drive us to distraction. It makes us want more. Do you understand?"
Literally, all I could do was nod, because at some point during his explanation, I swear he moved closer. Not close enough to touch, but close enough to make us both overly aware. It wasn't until my eyes darted in the direction of the doors to check for the guard that the Senator grasped the back of his neck and took a step back, looking away from me and back out at the obstacle course.
"And that is why it is better to leave touching for mating. No other time."
"Oh." My heart went crazy inside me.
I heard the little devil of Linette on my shoulder, pushing me to do something or say something seductive. Now, you idiot, while the guard is out of sight! It was hard to be sexy on command.
My voice trembled a little. "I thought maybe it was because it was unpleasant. That you didn't like being touched."
"No, Ms. Haines." He looked straight at me now. "We like it too much."


Prenez part au giveaway en cliquant sur l'image ;)
Découvrez toujours plus d'extraits jusqu'au 15 décembre :
December 6th
All Things Dark & Dirty – Excerpt
Candace Reads – Review & Excerpt
Literary Dust – Review
Once Upon a Book Blog – Review & Excerpt
The Lovely Books – Review & Excerpt
December 7th
By Valia Lind – Review & Excerpt
Ficwishes – Excerpt
Mes Livres – Review
T & G Book Boutique – Review
YA Fantasy Worlds – Review & Excerpt
December 8th
Movies, Shows, & Books – Excerpt
Nice Ladies, Naughty Books – Review & Excerpt
Read more sleep less – Review
Sister Sister Book Blog – Review & Excerpt
Taylor Fenner's Bookish World – Review & Excerpt
December 9th
Amy's Review Obsession – Review & Excerpt
KDRBCK – Review & Excerpt
Le Journal de Cacahuète – Excerpt
Rad Babes Read – Review
December 10th
Ceres Books World – Review
Julalicious Book Paradise – Review & Excerpt
Quesarasera Book Blog – Review
The Wandering Bookaholic – Review
December 11th
Forget the Housework, I'm Reading... – Review
Lovely reads publishing – Review & Excerpt
Nerdy Soul – Review & Excerpt
Two Chicks on Books – Excerpt
Words We Love By – Excerpt
December 12th
Binding Addiction – Excerpt
For The Love of Fictional Worlds – Review & Excerpt
Moonlighting Scrivener – Review & Excerpt
Reese's Reviews – Review & Excerpt
December 13th
Book Reader Chronicles – Review & Excerpt
Jen in Bookland – Review & Excerpt
Milky Way of Books – Review
Pretty Little Book Blog – Review
The Book Maven – Review
December 14th
Books Make Me Happy – Excerpt
Ms. Me28 – Review & Excerpt
The Book Addict's Reviews – Review
The Bookish Introvert – Review
December 15th
Fictional Rendezvous Book Blog – Excerpt
Novelgrounds – Review
PBC – Excerpt
Sharing Inspired Kreations – Review & Excerpt
The Butterfly Reader – Review & Excerpt